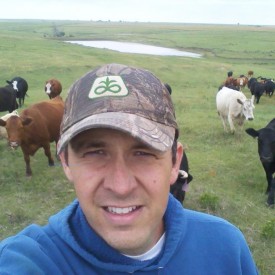 No-till Producer, Almena, KS
Michael Thompson is a farmer/rancher from Almena, KS. Michael along with his father Richard and his brother Brian operate Thompson Farm & Ranch LLC. The farm is comprised of acreage in Norton County, KS, and Furnas County, NE, and grows wheat, corn, oats, barley, as well as cover crop cocktails. The ranch consists of a cow/calf operation that grazes on native range and diverse cover crops on farmland acres. 
Michael has been committed to soil health and improving the acreage currently farmed by using cover crops, high stock density rotational grazing, and a zero-tillage approach to improve his farm and ranch land. The last several years Thompson Farm & Ranch has been below their normal precipitation but still have been able to produce good yields in grain crops while providing enough forage for the cattle herd. The change in land management on Thompson Farm & Ranch has made a difference in surviving the years of less than normal rainfall.