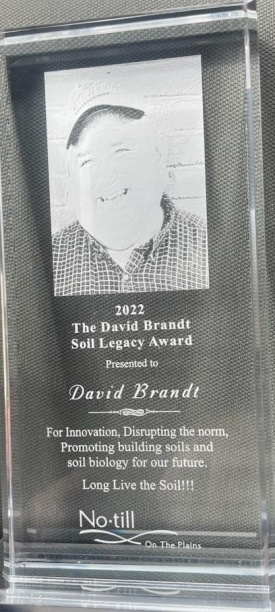 FOR IMMEDIATE RELEASE
Inaugural David Brandt Soil Legacy Award
The No-till on the Plains board announced a new award in 2022 to spotlight producers that had committed their lifework to improving soil health. This award was named The David Brandt Soil Legacy Award. The Annual Award recognizes innovation, disrupting the norm, promotion of building soils and soil biology for our future. "Long live the soil." 
It seemed only fitting that when you have an award named after you, that you would be nominated for the inaugural award. The 2022 No-till on the Plains David Brandt Soil Legacy award was presented to none other than David Brandt. 
Upon receiving the award, David's only comment he could get past happy tears was, "All I did was plant the seed. You all took it further than I could have ever imagined."
David Brandt farms 1,150 acres, all no-till, in Fairfield County in central Ohio. He began no-till farming in 1971 and has been using cover crops since 1978. David has participated in yield plots for corn, soybeans, and wheat into various covers. 
This information has been used by seed growers as well as county agents and universities to encourage other farmers to adapt no-till practices in their farming operations. 
Brandt has also been planting various blends of cover crops to find out what benefits they provide to improve soil health.
He has had articles published in Farm Journal, Ohio Farmer, Country Journal, and numerous no-till journals. He has worked in cooperation with The Ohio State University, University of Illinois, Penn State University, Purdue University in Indiana, and Milan Research Farm in Tennessee.  
Presently, David is working with OSU Randall Reeder and Dr. Rafiq Islam on reducing input costs of fertilizers and herbicides using various cover crops which improve soil health. 
He is also working with regional NRCS soils lab in Greensboro, North Carolina, on benefits of cover crops to improve soil health.
David Brandt has received multiple awards for conservation practices: Ohio EPA Non-Point Pollution Winner, Ohio Conservation Farmer, Ohio Conservation Educator Award from Ohio No-till Council, Ohio State University South Center Supporter of the Year, Ohio Agriculture Man of the Year, Ohio Farm Bureau Federation Distinguished Service to Agriculture Award, Ohio NRCS Soil Conservationist Partnership, and state volunteer awards.
Jimmy Emmons, the Vice-President of No-till on the Plains, presented the special award to David at the 27th Annual No-till on the Plains Winter Conference in Wichita, January 24, 2023, with David's family in attendance. Jimmy said, "What a way to celebrate our New David Brandt Soil Legacy Award. This is the first year of many to come and we will celebrate many great soil stewards that have led the way for so many."
No-till on the Plains, Inc. is a 501c3 non-profit educational organization providing information for producers to adopt high-quality continuous no-till systems, and to further develop those systems. 
While adopting high-quality continuous no-tillage and utilizing the best agronomic practices has the potential to greatly improve producers' efficiency and profitability, many other benefits accrue to society, such as greatly reduced soil erosion of cropland, less sedimentation of rivers, lakes, and streams, along with improved wildlife habitat, all while sequestering atmospheric carbon dioxide in soil organic matter.
Each year, No-till on the Plains presents educational events such as the world-renowned Winter Conference, Fundamentals of Soil Health workshops, Advanced Concepts in soil health workshops, field days, international tours, and regional bus tours, allowing attendees to get practical and relevant production and management information from fellow producers and predominant scientists.  
Our goal at No-Till on the Plains is to make farmers and ranchers more profitable, while improving their soil resource. For more information, please visit: notill.org
No-till on the Plains, Inc. 
Executive Director, Aaron Sawyers
785-210-4549

---