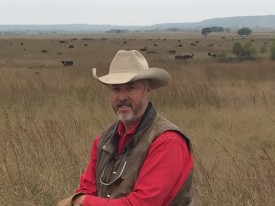 Cattle & Forage Manager, Dustin, OK
Yates Adcock, his wife, daughter and son are all directly involved in production agriculture. They have found that for them to continue and be employed in ranching, they have changed from traditional range management ideas to a concept of managing soil health, grazing rotations, animal density, fencing systems, water systems, implementing rest and burn cycles. They have introduced forages that cover nutritional gaps for livestock while developing genetics that can work in SE Oklahoma environment. They are responsible for the stewardship of over 15,000 acres.
Yates has an agriculture production degree from OSU and an MBA from Oklahoma City University. Yate's wife Nancy is a veterinarian; both Nancy and Yates are from multi-generational ranching families. They have found that ranching is one of the most challenging careers....it demands all your ingenuity, creativity and grit. Their children work off the ranch they are partners and adjust their schedules to cover issues as needed, they value time together as some of best "stuff" in life! Stewardship of the land is an extension of their respect for the wonderful blessing God has given the family. 
Session: Grazing Management "For Us" All we really know for sure... What We Don't Want to do Again