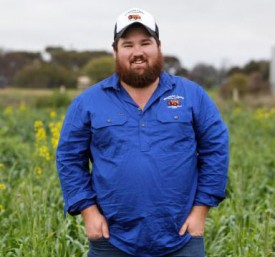 No-till Producer, South Australia
Tom Robinson farms at Hoyleton, South Australia, with his partner Cassi, father Ashley and mother Kaylene. They raise wheat, barley, canola, peas, lentils in a 14- to 18-in. average rainfall. Due to the hot dry summers, they normally only grow spring crops over our mild winters. 
The Robinson farm has been no-till with a low disturbance disc drill (called zero-till in Australia) for 15 years. Ten years before that, they started one-pass seeding with a hoe drill. The early years of no-till focused on retaining as much residue on the soil surface as possible for moisture conservation, not realizing the soil health gains. Six years ago the Robinsons purchased a Shelbourne stripper header, to retain as much stubble as possible, but also increase water-holding capacity. 
"Over the last 5 years we have implemented our controlled traffic system to keep all our machinery on the same wheel tracks," Tom says. "Controlling our traffic lets us control where our soil compaction happens."
Four years ago they started playing with summer cover crops between their winter cropping system. They have also started to grow massive winter cover crops and trying to grow summer crops like sunflowers, mungbeans, millet and corn through our hot dry summers. 
"After 15 years of no-till, our fertilizer inputs are decreasing," Tom says. "We have cut back fertilizer rates by two thirds over the past two years. After attending the No-till on the Plains conference for four years in a row, companion crops are something we are growing on our farm. We intercrop peas and canola, and also flax (linseed) and lentils. We are looking to take the next step with intercropping and try to grow and harvest three or four species of crops at the same time."