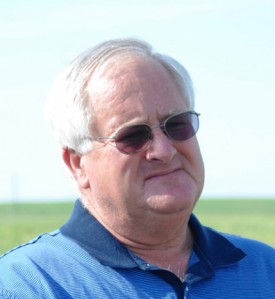 No-till Producer, Electra, TX
Terry McAlister raises wheat, cotton, hay, canola, sesame and beardless barley, along with cover crops, and runs a mother cow and stocker-cattle operation with his sons in the Texas Rolling Plains.
Growing wheat, cotton and grazing stocker cattle are a deeply embedded tradition in this region, although drought conditions have persisted for the past decade. Skepticism remains that covers steal moisture needed by cash crops. McAlister was among the first in his part of the Rolling Plains to experiment with no-till, and he went one better by incorporating multi-species companion cover crops to increase the value of no-till and boost crop yields.
Despite drought, McAlister has had impressive success growing cover crops, yet the old Rolling Plains paradigms still tug at him.
"Small grains, cotton and cattle are always a part of our life in this part of the world. We've had agronomists tell us that cattle hurt maximum yields, but I'm interested in maximum profitability," he says. "I debate the issue personally of whether covers sometimes take moisture away from cash crops. If we receive May and June rainfall and have good heavy dead residue in place to halt erosion and hold moisture in place, I question if we can plant cover crops.
"But, you can't leave the soil naked — you will lose the moisture anyway if you think you can store it in soil that is bare. It's better to have plant cover, whether it's old plant residue or new growing cover crops."