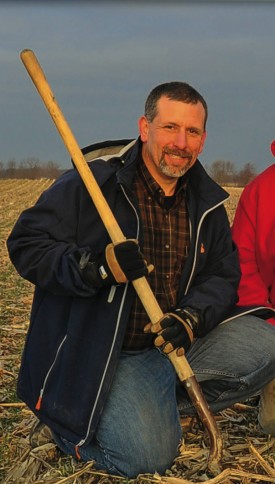 No-till Producer, Arcadia, IN
As a member or Rulon Enterprises LLC in Arcadia, IN, Rodney Rulon has been farming full time since graduation from Purdue University with a B.S. in 1994 and M.S. in 1996 in Agricultural Systems Management.  Rulon Enterprises is a fourth-generation family farming operation which includes Ken, Roy, Rodney, Nick and Neal Rulon as members. The farming business includes more than 6,000 acres of no-till corn and soybeans in central Indiana as well as a farrow-to-finish hog operation (Bryant Premium Pork LLC), a Beck's Hybrids seed dealership, The Peer Network, a subscription based ag discussion group, custom drainage design and installation business and several other custom services.
Since 1989, the Rulons have been pursuing their no-till system as a business model and a responsibility, with a family history of conservation and a belief in its inherent value environmentally, societally and agronomically. In the late 1990s after achieving what they found to be a good economic production system using no-till combined with intensive input management using GIS and 1 acre grids, the Rulons began to pursue next level soil health by incorporating cover crops and soil amendments such as gypsum into their system. After many years of experimenting with this system the Rulons are now seeing the benefits to a highly sustainable production system which produces excellent yields, minimal environmental impact and improved resilience in their soils.
Rodney currently serves as chairman of the Hamilton County Soil and Water Conservation District board. He also is active in several other groups including his church, Boy Scouts, and helps with their youth sporting clays team and as a 4-H project leader. Rulon Enterprises received the No-Till Farmer Magazine/Syngenta's  National No-Till Innovator Award in 2011 based on Rodney's efforts focused on improving soil health and the economics of conservation production practices and the ASA Regional and National Conservation Legacy Award in 2012. In addition the Rulons have won many state and local awards and continue to work hard to promote no-till and soil conservation as a sustainable and responsible cropping system.