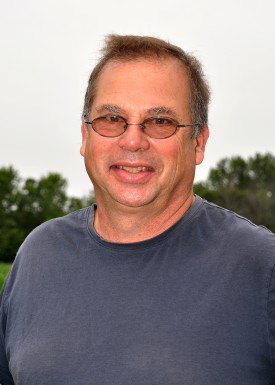 No-till Producer, Brownsburg, IN
The sixth generation Starkey family farm lies in an urban area just west of the metropolitan area of Indianapolis. Mike and his nephew, Jeff Starkey, operate the farm. They are joined by Mike's son, Nick; Jeff's son, Zach; and part-time employee AJ Adkins.
The Starkey family has the usual challenges of moving machinery in an area with heavy automobile traffic. And by farming in the School Branch watershed, M&J Farms faces extra scrutiny. The School Branch stream is the third largest tributary feeding Eagle Creek reservoir, which is a primary drinking water source for Indianapolis.
He no-tills his cash crops and in the off-season, plants cover crops. He says both of those practices have virtually eliminated flooding on his fields, but improved water retention enough to push him through the drought in 2012.
In addition, he says a university scientist has documented that due to his conservation practices, water leaving his farm is now cleaner than when it enters his land.
Starkey may be a conservation success story, but he's clear that he didn't get there overnight, and he didn't get there alone, "Input costs were skyrocketing, equipment costs, the steel really cost a lot of money, my fertilizer was really going up in value. I was applying so much that I wasn't getting any benefit like I should have and my yields were plateauing. I had to make a change and with that, with other no-tillers learn from them, what works best, what doesn't work best, it was very critical you learn from your peers how no-till works."
Our family and I have been blessed and called to continue the legacy started by our parents and grandparents to carry on a true "family farm."  "My legacy as a conservationist is to improve and protect the borrowed living soil that God has given us and to keep our clean and pure as the raindrops that fall from the sky."