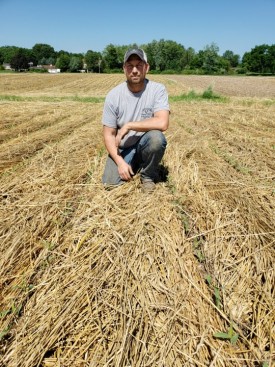 No-till Producer, Lewisburg, PA
Lucas Criswell and his father farm 1500 acres of corn, soybeans, wheat, rye, canola in Lewisburg, Pennsylvania. The Criswell's are 100% no-till and cover crop every acre. They are now starting to explore relay cropping on many of their acres. The farm uses manures from dairy cows, liquid hog waste and chicken litter in combination with the cover crops as a major part their fertility program.
Lucas' dad was an early adopter of no-till, first implementing the practice in the 1980's. The primary reason at that time was for time efficiency since he worked off the farm as a full time mailman. The Criswell's have used some form of cover crops, specifically cereal rye, for the last 20 years. The last 15 years they have planted cash crops into a green cover and have rolled cover crops on their corn acres for the last 4 years.
Lucas says every new practice he adopts; leads to some new ideas he had not planned on.