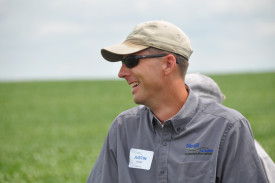 Regenerative Farmer, Gypsum, Kansas
Justin Knopf and his wife Lindsey live east of Salina, KS, with their three children. A fifth-generation farmer, he farms in a dryland no-till environment alongside his brother, Jeff, and father, Jerry. They raise alfalfa, wheat, soybeans, grain sorghum, corn and cover crops on predominantly silty clay loams and silt loams in a 31" rainfall zone.  
Like many central Kansas farm kids, Justin spent a lot of time in the tractor plowing, disking and field cultivating wheat fields. At that time, they grew wheat and alfalfa. When Justin went to Kansas State University to study agronomy, it not only offered an opportunity to learn in class, but also to learn through experiences and friendships with fellow students. His perspective on how they can farm and work with the land began to broaden significantly. At that time, Justin was renting 80 acres on his own. That field was one of the first the family transitioned into no-till in 1998.  
After graduating from K-State in 2000, Justin spent three years working in the seed industry as an agronomist before returning to the farm full time in 2003. By this time, the operation was 100% no-till. Alfalfa remains an integral portion of the Knopf's cropping system today and they increasingly value having a perennial crop as a key component of their crop rotation.