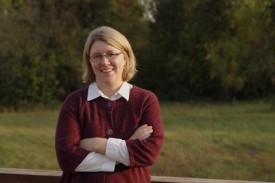 Savory Hub Leader
In her role as a Savory Hub leader, Julie wears several hats, all focused on helping farmers and ranchers grow the healthy food system of the future, by incorporating properly managed livestock in any operation for high quality of life, profitable bottom lines, and a resilient ecology.
Julie works with farmers and ranchers to supply regional and global food and fiber brands through the new Savory Land to Market program, and serves as supply director for Farmer Girl Meats, her family's grass-fed and pastured meats retail sales company based in St. Louis. In this role, she identifies and coaches farmers and ranchers toward meeting the growing demand for grass-fed and pastured livestock products in consumer homes throughout the U.S.
She is also actively engaged with her family farm in Eastern Kansas, raising livestock, crops and hay in a diversified, multi-generation, multi-family operation that utilizes Holistic Management. The family has been engaged in grass-finished and pasture-based meats production for more than 10 years, selling direct to local consumer and wholesale markets.
In 2014, Julie led her family's application and selection as one of the first 20 sites in the global Savory Network of Hubs, who are dedicated to healing the world's grasslands through the application of Allan Savory's Holistic Management. She has studied with Allan on his home ranch in Zimbabwe, has traveled worldwide to see Holistic Management in action across a variety of scales and settings, and is an accredited Savory professional, offering education and support in Holistic Management to farmers and ranchers throughout the Midwest.
Through the Savory Hub Network, Julie enjoys connecting with others in our region, across the U.S. and globally who manage the world's grasslands with a belief that we have a common interest with fellow farmers, ranchers, pastoralists and communities worldwide. She also enjoys working closely with her family to provide a path for youth into farming and to provide a model for generational stewardship transition.