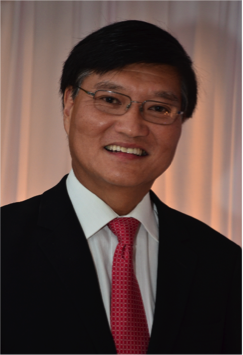 Agronomy Engineer and No-till Producer, Brazil
Jonadan Ma is an agronomy engineer, farmer and entrepreneur. Born in Brazil, Jonadan is a second generation farmer that continued his father's innovative activities in the agribusiness. Married with three children and three granddaughters, he is the third son among four of a Chinese family that migrated from China to Brazil in 1959. 
Mr. Ma Shou Tao, Jonadan's father, was one of the first soybean producers in the state of Rio Grande do Sul and was the first Brazilian associate of the American Soybean Association. Since 1965 he pioneered important work in soybean genetic improvement and from 1973 on, broke new ground in the Brazilian savanna in Minas Gerais to build and enable a journey of innovation through the development and application of new technologies in the production of grains, seeds, milk and food products. Mr. Ma Shou Tao passed on to his sons three great virtues: Christian faith, a pioneering spirit and entrepreneurship. He passed away in 2010, but the legacy of his entrepreneurship continued to grow to consolidate business activities to form the Araunah Group, a family-owned holding that operates in the agriculture, agribusiness, food production and technologies segments.
Jonadan joined his father's business in 1982, together with his brother, after graduating from São Paulo University, and has been leading innovation and growth of the family agribusiness since. He currently leads the agriculture and dairy farming business as executive director, located at the Boa Fé Farm in the state of Minas Gerais, where he cultivates 100% of the 3000 ha area with no-till farming: soybean, corn, sugarcane, sorghum, oats and buckwheat. He has been working with no-till farming since 1982, with progressive phases of implantation and improvement through the decades, in all cultures and also including dairy farming and forest integration.
He founded and was president of the first No-Till Club in Uberaba and helped found other three similar clubs in other cities. He was vice president for the No-Till Farming Association in the Savanna and president of the Triângulo Foundation of Research and Development, an institutional partner of the Brazilian Company of Agricultural Research (EMBRAPA), within the Brazilian program of Soybean improvement. He is currently the president of the Brazilian Association of Girolando Breeders (Brazilian dairy cattle breed and largest tropical dairy cattle breed in the world) and also president of the Boa Fé Institute of Support to Combat Cancer.
He is vice president of the Brazilian Federation of No-Till Farming.