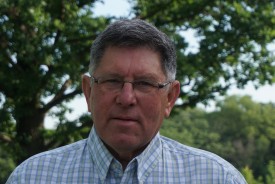 Producer & Holistic Manager, Washington, KS
John Stigge and his family have been early pioneers of regenerative farming, even before they knew there was such a thing. They have continuously used cover crops for the past the past 23 years and practiced never tillage for 35 years. John introduced "graze cropping" in 2007, using livestock grazing to accelerate the benefits to the soil. In 2011 John and his wife Kathryn, took the Introduction to Holistic Management course offered through No-Till on the Plains. In 2013 they completed the Financial Planning course. John then completed the Grazing Planning course and the Holistic Biological Monitoring course.
With this insight from Alan Savory's Holistic Management, the working information from the Holistic Management courses, they now plan all aspects of the farm operation in a more holistic manner. They have significantly reduced input costs while increasing their soil's health and productivity. Their study of grazing livestock on cover crops as part of their farming program has enabled them to better understand the potentials of grazing cover crops. It has also enabled them to expand their marketing and income potentials.