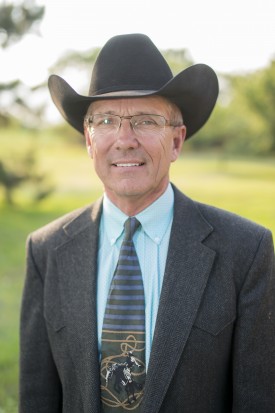 No-till Producer, Sterling, ND
Jerry Doan is owner of Black Leg Ranch, a ranching operation homesteaded in 1882 by his Great Grandfather. Jerry, his wife Renae and their three sons Jeremy, Jay, and Jayce operate a cow/calf, custom grazing, farming and agritourism enterprise. They also operate Rolling Plains Adventures, a hunting/outfitting business, on the ranch.
Jerry utilizes holistic management as he strives to improve the land resource and become sustainable, while improving the bottom line and quality of life for his family. He has utilized intensive grazing and cover crops to improve soil health, propagate wildlife, and reduce winter feed costs and other input costs. Jerry has presented across the country on these principles and utilizes Black Leg Ranch as a living classroom to spread a positive message on agriculture and to help other producers and the public learn about soil health and ideas to help economic health. 
Jerry has a degree from Bismarck State College in agribusiness and from North Dakota State University in animal science. He has also attended Allen Savory's Holistic Resource Management School.
Jerry is past chairman of the North Dakota State Board of Ag Research and Education, the North Dakota Beef Commission, the North Dakota Ag Coalition, Rural Leadership North Dakota and the Central Grasslands Research and Extension Center advisory board. He has served on the North Dakota Stockmens Association board, the North Dakota 4-H Foundation, the Governors Value Added Ag Board, and the North Dakota High School Rodeo board. He currently serves on the focus group for the ARS Research center in Mandan, ND, is a board member and mentor with the North Dakota Grazing Coalition, the chairman of the NDRA Rodeo Finals, the NDSU CARET representative, and was appointed by the governor to the Natural Resources Trust Board. Jerry has been very active in 4-H and has served as a 4-H leader for four decades.
Jerry was awarded the North Dakota Outstanding Young Farmer award, The National Outstanding Young Farmer Award, The Outstanding Young North Dakotan award, and the NDSU Harvest Bowl Agribusiness award, the Epsilon Sigma Phi Friend of Extension award, the Rural Leadership North Dakota Leadership award, and the NDSU College of Agriculture Masters Week Award. Black Leg Ranch has received the governor's award for best tourism package in North Dakota, the Burleigh County Soil Health Award, and the Environmental Stewardship award by the North Dakota Stockmen's Assocation. Black Leg Ranch was recently honored as the 2016 Region Seven Environmental Stewardship Award winner by the National Cattleman's Beef Association.