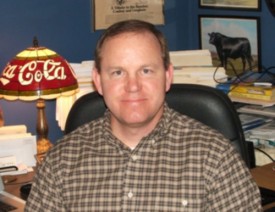 President, LMC; Founder, Grass Fed Beef, LLC
Dr. Allen Williams is founding partner and President of LMC, LLC, an Agriculture & Food Industry consulting firm specializing in enhanced farm and food company sustainability and profitability through values based value chain product development and marketing, and also founding partner of Grass Fed Beef, LLC. Allen is a sixth generation family farmer and holds BS, MS degrees in Animal Science from Clemson University and a Ph.D. from Louisiana State University.
Dr. Williams spent 15 years in academia in research, teaching, and extension, and has written more than 300 peer reviewed and popular press articles. In 2000, he left academia and founded LMC, LLC. Since that time, he has worked with more than 3,500 farmers and ranchers in the US, Canada, Mexico, and South America. LMC, LLC also consults with Branded food programs, processors, distributors, retailers, and food service. Allen has authored numerous feasibility studies, business plans, and cash flow projections for the natural and organic food sectors. He has written standards and protocols for a number of branded food programs.
Dr. Williams has served on numerous boards and national committees, including the National Integrated Resources Management (IRM) committee. He currently serves as Chairman of the Association of Family Farms, Co-Chair of the Grass Fed Exchange, Co-Project Leader of the Pasture Project, Facilitator in the USDA BFRDP EET program, Board of Directors of Mississippi Sustainable Agriculture Network, and Principal in the Farm Food Collaborative. Allen has been an invited speaker at over 400 regional, national, and international conferences and symposia.