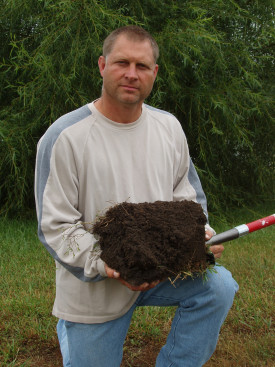 Soil Health Specialist, NRCS, Des Moines, IA
Doug Peterson has been an NRCS employee for over 30 years. He started his career as a Soil Scientist.  He has been a District Conservationist in both a grassland based county in south Missouri and a large cropland county in north Missouri. He has also been a State Grassland Conservationist and a State Soil Health Specialist. Currently he is a Regional Soil Health Specialist for Missouri and Iowa teaching NRCS staff and producers around the mid-west about soil health and how it impacts virtually all natural resource processes, and what type of management it will take to effectively improve our soils health, function and productivity.
He attended college at Missouri Western State University graduating in 1986 with a B.S. degree in Agriculture with an emphasis in Economics and Agronomy.
He grew up on a crop and livestock farm near Newtown in north Missouri.  Today he continues to operate a cow/calf and contract grazing operation with his father, Steve.  Currently they run about 250 cows. They utilize Adaptive Multi-paddock Grazing and Holistic High Density Grazing to improve soil health, eliminate the need for most purchased fertilizer and limit hay needs to about one bale per cow per winter.
Doug's NRCS training coupled with his real-world hands on experience make him a unique speaker that is relatable to both agency personnel and producers.