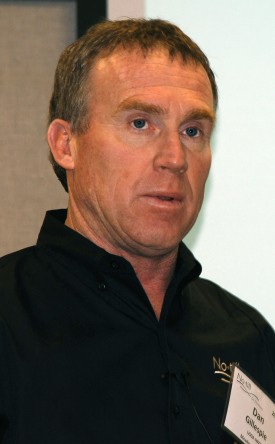 No-till Specialist, USDA NRCS, Norfolk, NE
Dan was raised with six siblings on an integrated crop and livestock farm south of Meadow Grove, NE. After graduating from Battle Creek High School and attending UNL he has been farming since 1974.
Dan's 413 acres of cropland are predominantly highly erodible Nora Crofton silty clay loam soils on 4 to 16% slopes.
Dan has been twenty five years continuous no-till in his irrigated and dryland cash grain corn/soybean operation.  He first tried no-till corn into soybeans in 1986, and evolved to a continuous no-till system (CNT) on all acres in 1991. 
Long term CNT increased biological activity in the soil to the point where the residue produced by soybeans alone was readily biodegraded and failed to provide sufficient protection to the soils from intense rainfall events in late May to mid-June timeframe prior to crop canopy. 
In 2005 Dan began experimenting with cover crops following the soybean crop to improve erosion control and build soil organic matter.  The rye cover crop after soybeans dramatically reduced runoff and erosion problems.
One of the first recognizable benefits of the increased erosion control gained from the cover crops was the decrease in ephemeral gully problems in HEL fields.  Lower organic matter sandy soils and degraded silty clay loam soils exhibited the quickest yield response to the soil quality improvements that CNT and cover crops provide. 
Cereal rye has proved to be the best above and below ground biomass producer but multiple species cover crop mixes are showing that diversity in the cover crop mix is very beneficial to soil health. Planting green into living cover crops has the potential to increase those benefits even more.
Dan has been soil testing by soil type in the 0-2" and 0-8" horizons since 1999 to monitor how his farms have responded to the twenty five years of no-tillage and ten years of cover crops.  After ten years of continuous no-till the soil organic matter improvement had reached a plateau of .1% increase annually.
The addition of cover crops in 2006 reignited the soil health improvement and soil organic matter is on the rise again, with organic matter increase doubling to .2% annually and soils reaching the 3.5 to 4.5% range.
Water use efficiency has also increased with the soil health improvements.  In 2008 Dan installed flow meters on the irrigation wells and started monitoring soil moisture electronically with data loggers and Watermark sensors.
Since 2008, including the high volume year of 2012 the average yearly irrigation applied has been 5.39 acre inches per acre.  Crop year 2016 water use was 4.89 acre inches on soybeans and 3.45 acre inches on corn.
Dan also serves as a USDA NRCS No-till Specialist in the Norfolk, NE Field Office.  Travelling across the state participating in no-till workshops and field days, Dan can be seen presenting the Rainfall Simulator Demonstration to kick off the events.  The Rainfall Simulator is a graphic demonstration of the benefits of retaining residue cover and preventing the damaging impact of raindrops or irrigation water falling on bare soils.  Farmers often experience an "ah ha" moment when they see how little rainfall actually infiltrates soil profiles with the bare surface sealed up by pounding water droplets.