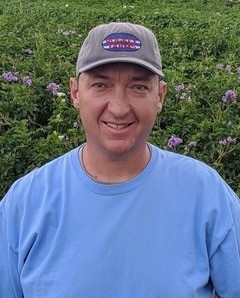 Regenerative Farmer, Center, Colorado
Brendon Rockey is a third generation farmer in Center, Colorado. On Rockey Farms, he raises specialty potatoes and quinoa among cover crop fields, all cultivated in a living environment. Companion crops, animals, cover crops and flowers replace synthetic fertilizers, herbicides, fungicides and insecticides. The 500-acre, irrigated farming system sustains yields, has greater water efficiency and it supports a flourishing ecosystem encouraging beneficial insects, soil microbes and carbon cycling. 
At 7,600 feet above sea level, Rockey Farms also produces cide-free, year- round certified seed potatoes in a greenhouse while operating an off-farm packaging warehouse.
Brendon's biotic management system is founded on carbon cycling and diversity. He explains how synthetic inputs and the absence of life breakdown soil resiliency and, in turn, how a biological farming system supports not only soil health, but the overall farm's health. Brendon will share the science behind his approach and how he continues to build on soil health fundamentals with regard to his available resources.
Visit www.brendonrockey.com to learn more about Rockey Farms and Biotic Potatoes.