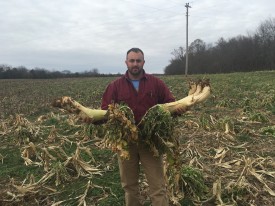 District Conservationist, Coffee County Tennessee
Adam Daugherty serves as the NRCS District Conservationist for Coffee County, TN.  Adam started his soil rejuvenation journey back in the fall of 2013 with 8 long term no-till producers on about 2000 acres.  Since 2013 Adam currently works with over 70 producers in Coffee County implementing diverse high biomass cover mixes on over half the cropland acres in the county.  Adam has worked hand in hand with these producers from transitioning from long term no-till production into high functioning agro-ecological systems.  Adam has been fortunate to be able to implement these systems across a wide diversity of producers and learn first hand how to handle the ever-evolving dynamics of managing and succeeding with the transition from long term no-till into biomass cover systems.
Adam will share the results from a three year study involving 18 producers, 58 fields, and over 2200 acres in a corn, diverse cover crop, and soybean rotation.  He will present what strides these fields made physically, biologically, and economically.  Adam will also share many of the management techniques that were used and evolved with the transition of no-till into enhanced no-till and eventually into higher functioning ecological systems.