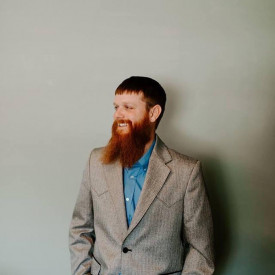 Director
Aaron comes to us from his former role as a K-State extension educator in Comanche County, Kansas. He has helped organize grazing, cropland, and rangeland improvement events with the Comanche Pool Prairie Resource Foundation (a grazing organization in South Central Kansas and North Central Oklahoma) Aaron and wife Macy operate a small operation A&M Farms just east of Protection, Ks. They have 2 children Jeremiah and Kay Olive.
The operation is mainly a cow-calf herd but also has a small flock of hair sheep in the grazing rotation, as well as chickens and pigs. Aaron and Macy are both active in their church and continue to invest in young people to keep vital services prominent in their small town. Aaron says "we farm like there is a tomorrow, it is my goal as director to make sure people value change and continue to think about the future when making decisions on their operations. I look forward to working with producers and hosting educational events on working with nature to restore soil health, while remaining profitable in all types of markets!"
I look forward to meeting you this year throughout out No-till events. "I enjoy to work in a field that I get to make a living and be a lifelong learner at the same time." Change can be beneficial.
"Whether you think you can, or think you can't-you're right"-Henry Ford
 
---